Top Supplier Retail 2018
06/13/2018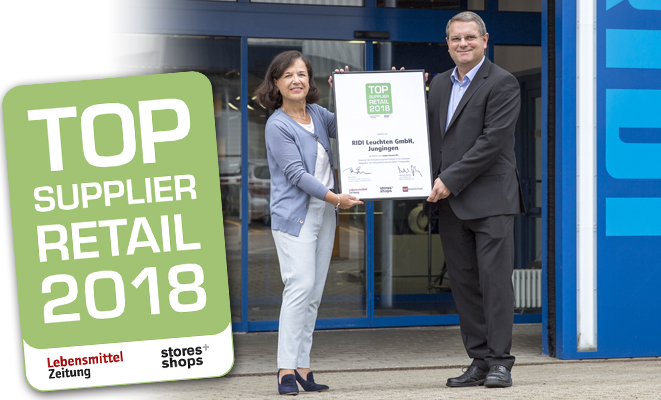 RIDI Leuchten GmbH wins Top Supplier Retail 2018 award
At the Energy Management Convention in Cologne, the EHI Energiemanagement Award in the category of Integration of Energy-Efficiency Measures/Pilot Projects went to home improvement chain toom.
As toom's partner, RIDI Leuchten GmbH thus also received the Top Supplier Retail 2018 award.
The lighting concept for toom's home improvement stores was realised by RIDI Leuchten GmbH. The combination of high-efficiency lighting units and a control system that allows each luminaire to be adjusted individually has improved lighting on the shop floor and reduced the company's energy consumption.
The picture shows Claudia Horbert (EHI Retail Institute) and Siegfried Schuler (RIDI Leuchten GmbH) as the certificate is handed over at the RIDI Leuchten GmbH headquarters in Jungingen, southern Germany.
This object is already on the Wish list