RIDI light management in practical application
Light management has to be used according to demand and made as easy as possible for the user. The operator of the lighting system focuses on efficiency and the connection to a building management system. The user sees the tasks of light management more in terms of convenience and health. These different approaches have to be linked for the individual application solutions to allow implementation of the optimum light management system.
The applications range from a floor lamp as the smallest unit to the illumination of an entire building and can be divided into different sectors depending on the area of use and the intention of the illumination.
RIDI offers lighting solutions for offices, schools, sports halls, industrial facilities and retailers. Naturally, special solutions and cross-brand solutions can also be implemented within the RIDI Group.
Individual
Simple & efficient
Solutions for individual rooms
Wireless with RIDI Smart Control
RIDI Smart Control enables all brands of the RIDI Group to have light control by smartphone or tablet. The intuitive user-friendly app makes operation easy for everyone. Furthermore, this technology can be combined with the Hue illuminants available on the market.
The RIDI Smart Control control module integrated into the luminaires creates a mesh network, over which all luminaires communicate with one other. This enables the user, to select and operate each luminaire from anywhere within the mesh network range.
Thanks to Bluetooth 4.0, connections in the form of control lines are not required.
Tapping and swiping in the app switches and dims the luminaires, creates groups and forms scenes. Depending on the features of the luminaires, the colours (RGB) or the shade of white (tunable white) can be changed, and simple light controls and animations are achieved.
Existing wall switches can be used for switching and dimming, or can be assigned other functions through the appropriate app settings.
RIDI Smart Control offers a fast and simple way of controlling light. Only a small module is installed in the actual luminaire and no switches, gateways or networks have to be in place for the operation. The end user only needs to download the free app to their device from the Apple App Store or from Google Play.
Advantages of RIDI Smart Control:
Intuitive operation

Simple configuration

Time functionality (defining time-controlled events)

Lighting scenarios and animations

Compatible with most smartphones and tablets

Free app (iOS and Android)
"Plug and play" with DALI
One main feature of light control systems for individual room and floor lamp applications is that they can be operated directly after installation without much programming – just plug and play.
The multi-sensor integrated into the floor lamp or a master luminaire controls the light according to demand and switches the lighting ON or OFF automatically, depending on user presence. Manual operation via switches or remote control is possible at any time.
Additional slave luminaires, which are connected to the master luminaire, are automatically controlled through a broadcast process and do not have to be addressed.
For individual illumination, specific parameters of the light control, e.g. the trailing time, can be set with PC software and a special programming remote control.
The RIDI Group offers a broad product range of light and control systems that offers the flexibility to adapt the lighting to the local circumstances and preferences of the users.
Complete solution with RIDI GREEN BOX
RIDI GREEN BOX is a complete package of square recessed luminaires for M625 or M600 module system ceilings for office renovation. The boxes are available as sets of 4, 6 or 8, depending on office size and desired luminaire arrangement. Each set includes a master luminaire with daylight or motion sensor and 3, 5 or 7 slave luminaires. The T16 lamps in colour temperature 840 are integrated and have already been lit for 100 hours, allowing the lamps to be dimmed immediately after installation. LED technology with RIDI TUBE is particularly efficient and sustainable. The LED version of the RIDI GREEN BOX also already contains the lamps.
Order, unpack, install: the simplest way to illuminate efficiently and save energy!
Office renovation made easy
Complete boxes in sets of 4, 6 or 8
Daylight and motion sensor in the master luminaire

LED technology with RIDI TUBEs is particularly efficient and sustainable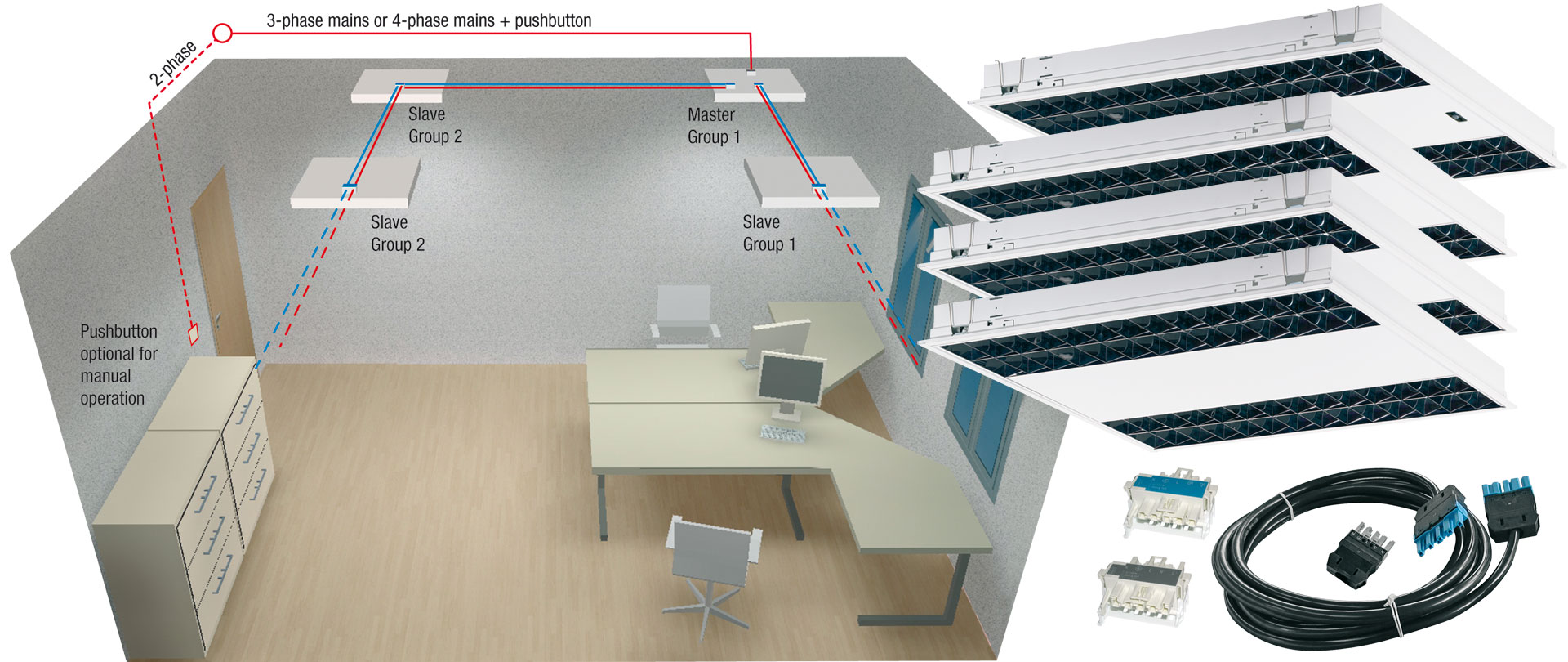 Solutions for multiple rooms
Light control systems for multiple room or large room applications feature a variety of options for adapting the lighting to user requirements.
Depending on the system, the lighting can be controlled via panels, remote control or conveniently via a touch panel.
Optional multi-sensors with integrated light sensor and motion detector can achieve a high energy saving potential. For this, the lighting system can be divided into partial areas as groups with own sensor systems. Commands to the entire system are still possible at any time. The system can be programmed with a special software.
RIDI Group uses DALI-ECO and DALI Digidim for all brands.
Constant light control
Motion detection
Grouping
Lighting scenarios
Schedule
Light control systems for industrial applications with protection rating IP20 or IP54 are easy to integrate into the RIDI LINIA continuous lighting systems. The special RIDI LINIA modules include the required control components as well as the sensor system and are easy to integrate into the continuous lighting system with great flexibility.
RIDI uses the correspondingly adapted VLM-SEN modules for industrial applications within the RIDI LINIA continuous lighting system.
DALI
Constant light control
Motion detection
For specific application areas such as hallways, side rooms or other pass-through rooms, RIDI uses a high frequency motion detector specifically for diffuser luminaires.
The compact, innovative and high quality HF motion detectors are integrated behind the luminaire tray, fully concealed. There are no visible attachment parts, allowing the luminaires to present their design to the user unchanged.
Motion detectors can be adapted to the usage conditions with individual setting options
Sensitivity adjustment
Hold time
Brightness control
Tunable White / Human Centric Lighting
Light has an effect on our wellbeing, defines our day and night rhythm and has been proven to influence our powers of concentration. The focus here is on people, their health and the influence of artificial light on their well-being. The spectral composition of artificial light and the illumination level are based on the course of natural daylight, trying to imitate it as far as possible.
These parameters are crucial to whether the light has an activating or relaxing effect on the human organism.
RIDI Group uses the Tunable White control for this across all brands.
Tunable White Basic
Tunable White Basic is the starter version with the following features:
Manual white-white control for colour temperature
Brightness dimming
Manual control of the lighting system with 2 buttons (brightness and colour temperature control)
DALI Tunable White Plus
The convenient Tunable White Plus control can be configured individually and runs automatically.
Automatic white-white control depending on the time of day
Circadian lighting scenarios with suitable colour gradients and degrees of lighting intensity
Configuration via smartphone app possible
Manual control via touch panel and/or 2 buttons (brightness and colour temperature control)
Optional: Daylight-dependant regulation, presence detection
RIDI light management for everyone

Quality
Quality in production is paramount for RIDI. Special checks and tests are carried out both before and during the production of LED lamps. It goes without saying that the luminaires also have to comply with strict quality guidelines. Quality by RIDI comprises the entire vertical integration and RIDI is committed to meeting the highest requirements.
Sustainability
LED lighting makes a significant contribution to sustaining our beautiful planet. It not only cuts energy costs, it also reduces CO2 emissions. RIDI products, including LED lamps, have a long service life and allow simple and environmentally friendly disposal. There are no residual substances such as lead or mercury. LED is the economical and ecological light of the future.

Advice
Do you have questions on RIDI light management?
We can provide individual advice at any time to jointly develop the best possible solution for your project. Find your contact or get in touch with us directly.
This object is already on the Wish list