Linear luminaire system – the highlight among the illumination solutions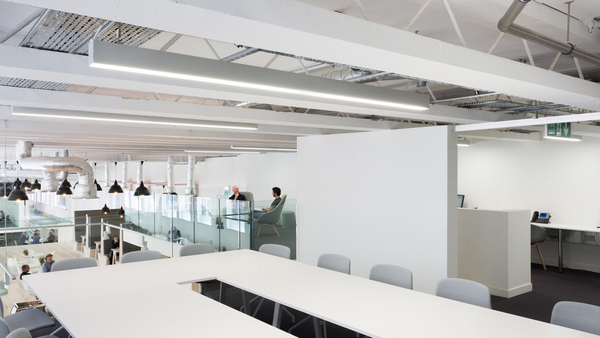 Linear, rectangular luminaires are becoming increasingly popular in modern architecture. Modular RIDI luminaire systems are a growing trend.
RIDI makes it easy for light designers and architects: With five systems that offer high output, excellent workmanship and an unbeatable range of customer-specific accessories in equal measure. Light lines in the room as effect, to support the architecture, as a dividing line, as illumination for specific purposes or as part of the construct, RIDI linear luminaire systems offer all this.
Manufactured in Germany, on highly-modern production facilities at the premises of RIDI Leuchten GmbH, each and every system is checked for quality and the LED variants for sustainability in particular.
The LED versions of the linear luminaire systems are fully equipped with LED illuminants made in-house at RIDI. Multiple highly-modern LED assembly lines, consistent quality management, fair warranty conditions and replaceable LED illuminants guarantee a high degree of efficiency.
The RIDI linear luminaire systems at a glance

VENICE
The puristic style of the VENICE is a must for as a continuous lighting solution for extravagant interiors, as well as for shop and industrial illumination. The recessed and surface-mounted light channels are set apart by their simple elegance. The luminaires can be fitted with LED or T16 illuminants.
U-LINE
This luminaire system with U-shaped cross-section can be used as a ceiling-mounted, wall-mounted or suspended luminaire and in any length. The flexible system also permits three-dimensional mitre angles. LED modules from RIDI create shadow-free light paths.
U-LINE MINI
A minimalistic, state-of-the-art linear luminaire with LED technology from RIDI. The small profile cross-section creates a subtle lighting architecture in the room, yet still offers great flexibility throughout the system as a whole.
H-LINE
Features two separate light compartments in one luminaire, and hence numerous combination potentials for lighting scenarios. All components, including ballast and driver units, are integrated into the gear tray, and so the system can be designed completely independently of the environment and the ceiling type. Either RIDI LED or T16 illuminants are used.
H-LINE MINI
Features an especially slim design, yet has two separate light compartments for direct and indirect light. The RIDI LED modules create subtle, shadow-free light paths that radiate unobtrusively throughout the room.
This object is already on the Wish list