Bring your lighting up to date
Modern lighting. Low costs. Sustainable future.
Would you like to update your lighting and benefit from the advantages of energy-efficient lighting?
Then a good refurbishment concept is the perfect solution for you! We bring your lighting up to date and not only improve your energy / environmental balance and lighting quality but also help you save costs.
Why a rehabilitation project is more important now than ever before
The EU has banned the marketing of e.g. fluorescent lamps T5, T8 and halogen lamps and will implement this ban gradually in 2023.
The previous conventional light sources contain toxic substances such as mercury or lead, which have a considerable negative impact on our environment and pollute it heavily. In addition, the energy consumption of conventional light sources is many times higher than that of modern LED lighting. This ban should help reduce the negative environmental impact of lighting and accelerate the transition to energy-efficient LED lighting.
Switching to modern LED lighting systems not only offers a sustainable solution to reduce the environmental impact of toxic substances, but also a significant reduction in CO2 emissions. By converting to LED lighting systems, companies can significantly reduce their CO2 emissions and cut their energy costs at the same time.
What does that mean for you?
Companies whose conventional lighting fails will no longer be able to source replacement lamps. It is therefore worthwhile to take action at an early stage and bring the lighting up to date before a failure occurs that could possibly lead to business interruptions. A sound refurbishment concept offers an ideal opportunity here to obtain an energy-efficient and environmentally friendly lighting solution that complies with current specifications and standards. By upgrading to LED lighting, companies can also benefit from significant savings in energy and maintenance costs, thereby also ensuring a reduction in CO2 emissions. At the same time, the quality of light and the service life of the products can be significantly increased by switching to LED lamps.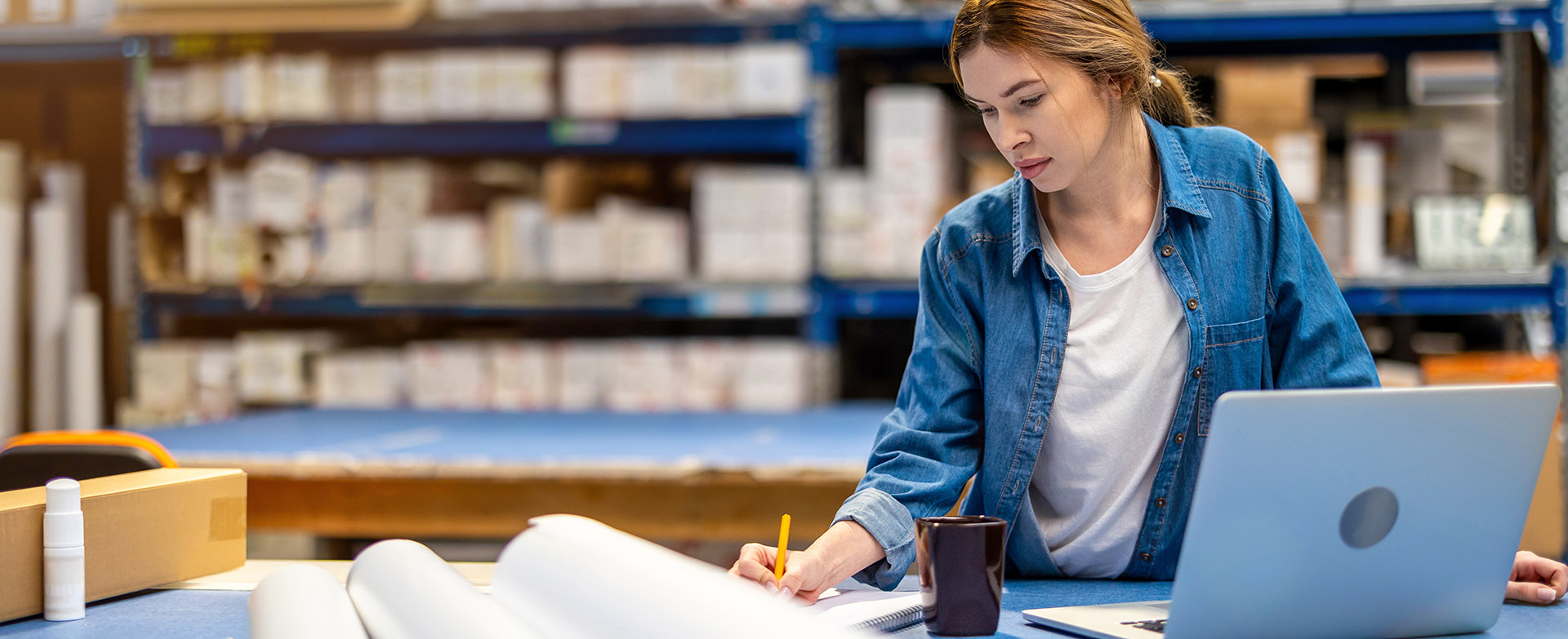 The ban on fluorescent lamps and other conventional lighting offers an opportunity not only to improve the environmental footprint, but also to increase the productivity and well-being of employees. Modern LED lighting solutions can improve the quality of light and thus contribute to higher concentration, motivation and a generally better working environment.
Our wide product range of high-quality LED lighting solutions makes fast and effective refurbishment projects possible. However, we not only offer standard solutions, but also develop customised refurbishment concepts for individual requirements and needs.
Our experienced team of lighting experts supports you from planning to implementation and ensures that your lighting is brought up to date quickly and professionally.
Short conversion times, long service life and outstanding sustainability - these are just some of the advantages of refurbishment with RIDI. With our own LED fitting facilities and our extensive standard portfolio, we can quickly and easily offer you a customised solution for your lighting - made in Germany.
Thanks to a saving of up to 2.5 tonnes of CO2 per luminaire over the duration of its operating cycle*, you can not only reduce your energy costs but also make an important contribution to environmental protection. See for yourself in the video how easy it is to refurbish your existing RIDI luminaire.
And if your requirements go beyond our standard portfolio, we also supply customised solutions for your individual needs. Because our focus is on customer satisfaction and optimal lighting.
(*assuming a saving of 60W (e.g. 2x58 = 100W compared to M9P with 40W) and a CO2 emission of approx. 400g per kilowatt hour (source: www.umweltbundesamt.de))
5 minutes of conversion - 100,000 hours of peace and quiet.
Time-saving expert
RIDI Group
Ignite the booster with the RIDI APCON light management system
A modern lighting installation also always includes an advanced lighting management system to maximise energy efficiency and lighting quality.
The APCON Light & Building Control System, in combination with the RIDI Group's wide range of lighting solutions, enables holistic, coordinated project solutions and precise, individual control of lighting to ensure optimal lighting quality with minimal energy consumption. Thanks to the combination of energy-efficient LED lighting solutions and advanced lighting management solutions, companies can achieve significant savings in energy costs while improving their environmental footprint.
Our product recommendations for renovation projects
EL-A luminaires with highly-efficient frosted mini-reflectors
EL-A
SARA - a refurbishment downlight in 2 sizes, flat design and three versions, On/Off, DALI and EDS3
SARA
LED recessed luminaire FPL has an extremely flat design and is designed for 600x600 or 625x625 modular ceilings. The luminous flux is selectable using PowerSwitch.
FPL
The APCON light & building control system in combination with the lighting solutions of the RIDI Group enables holistic, coordinated project solutions.
APCON LICHT- UND...
Modern, efficient, fast: with RIDI LINIA to the optimum lighting solution
[Translate to International:] RIDI LINIA VL1GPS
With RIDI LINIA, we offer you an efficient and simple solution to save time and money when installing or refurbishing your lighting. Thanks to the innovative quick mounting system, the installation of the RIDI LINIA continuous row system is particularly fast and uncomplicated, without compromising on the quality or performance of the lighting. This means you can quickly and easily switch to modern, energy-efficient LED lighting and benefit from the advantages of contemporary lighting.
YES to refurbishment - NO to retrofit
Retrofit solutions are not the best choice!
Retrofit solutions are a way of converting existing lighting systems to LED technology by replacing light sources. They are often touted as a cost-effective and simple alternative to a complete new installation of lighting systems. However, the negative aspects of retrofit lamps are often overlooked or concealed.
Replacing conventional fluorescent lamps with LED luminaires can reduce energy consumption, but it is usually not possible to exploit the full potential. New LED luminaires are specifically designed for LED technology and offer higher energy efficiency. They are also more reliable, longer-lasting and offer better light quality than most retrofit solutions.
Higher energy efficiency through new LED luminaires
When it comes to energy efficiency, new LED luminaires are clearly superior to retrofit solutions. Compared to retrofitting old lighting systems, new LED luminaires offer higher energy efficiency and greater savings in energy costs.
Lower maintenance costs due to new LED luminaires
Investing in new LED luminaires can lead to lower maintenance and servicing costs in the long term. Compared to retrofit solutions, new LED luminaires are more reliable and durable, resulting in less downtime and less need for maintenance.
Poorer light quality due to retrofit solutions
Retrofit solutions can lead to poorer lighting quality because they are often not optimally matched to the existing lighting systems and optics. New LED luminaires usually offer higher colour rendering and more uniform illumination of the room. This can contribute to a more pleasant and productive working environment.
Why 1:1 replacement is the better alternative to retrofit
NO to retrofit
Refurbishments with retrofit lamps are not subsidised
Test marks lose their validity after use of the retrofit lamp
Light distribution deviations, the luminaire can dazzle
Lighting quality changes compared to the previous system
Efficiency properties are not matched to the existing reflector technology
Problems with light dimming and emergency lighting
Less sustainable and lower savings due to higher energy demand
Higher risk of failure. due to older technology and lack of compatibility
YES to the 1:1 exchange
Refurbishments with 1:1 exchange are eligible for funding
New complete luminaires have test marks
State-of-the-art LED luminaires with optimised lighting technology
Due to the use of modern LED luminaires, the failure rate over the entire service life is very low
Fulfilment of contemporary requirements for lighting quality
Demand-led lighting management is possible
Greater flexibility
Greater potential for savings
Related downloads on the topic of redevelopment
Get in touch and let's illuminate the future together!
We are happy to be there for you personally to discuss your individual requirements and needs.
You benefit from our many years of experience as a family business and our high-quality products. Our team of experienced lighting experts will support you from planning to implementation and is always on hand to offer advice and support. Contact us today to update your lighting and benefit from our customised refurbishment solutions.
This object is already on the Wish list