Warranty for LED components in RIDI luminaires
For products with a rated service life of ≥ 50.000 operating hours, RIDI offers a 5-year warranty period from the date of the RIDI invoice.
For products with a rated service life of < 50.000 operating hours, RIDI offers a 3-year warranty period from the date of the RIDI invoice.
This warranty refers to all LED modules, LED control units and other LED components and is applicable on a Europe-wide basis. On application, the warranty can also be extended to other countries. Warranty entitlement must be substantiated by an invoice in case of a warranty claim. The warranty covers exclusively product failures due to material, design and/or fabrication faults.
The warranty conditions refer exclusively to mortality over a nominal failure rate of 0.2% / 1000 operating hours. A mean flux decline in LED modules of up to 0.4% / 1000 operating hours is normal and consequently not covered by the warranty.
When replacing LED modules, due to the use-related change of luminous flux in operated LED modules and as technical progress advances, deviations may occur in terms of lighting characteristics.
The warranty will only be valid if the following conditions may be proven to have been complied with:
Use of the products in accordance with their intended purpose as set out by the relevant product and application specification
No modifications may be performed on the product which would alter its as-delivered condition. The installation may only be carried out by qualified personnel in accordance with the installation instructions. • Limiting values for temperatures and voltages must not be exceeded.
The warranty is fulfilled following a decision by us as to whether the product or the faulty components of the product should be repaired in one of our locations or replaced by identical or equivalent substitute products. The design and properties of product replacements may deviate slightly but not unreasonably from the original product due to technical advancement.
Because the LED modules and R-TUBEs are produced in-house at our Jungingen factory, RIDI is able to guarantee equivalent replacement delivery for a period of a 10 years.
The warranty does not cover:
All ancillary costs incurred in connection with remedy of the repair (such as mounting and dismantling, transport of the faulty and repaired / new product, disposal, travel and transit time, hoisting equipment, scaffolding)
Settings / parameterization work in systems which change as a result of wear, fatigue or dirt
Any necessary services such as repeated commissioning, software updates etc.
This does not affect any statutory warranty rights which apply irrespective of the warranty. This applies also to claims against the dealer/installer.
The legal relationship in connection with the warranty is governed exclusively by German law. We expressly refer to the conditions attached to the invoice / to our General Terms and Conditions.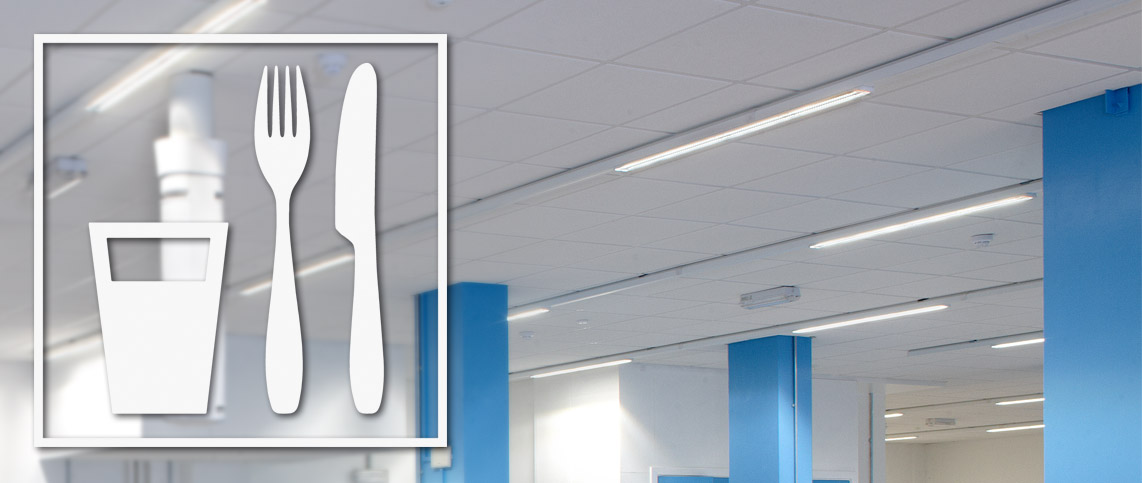 Luminaires for the food industry
The hygiene and safety regulations applicable in the food industry are particularly stringent. EC Regulation 852/2004 stipulates use of the HACCP (Hazard Analysis and Critical Control Points) concept as a mandatory requirement in all companies involved in the production, processing, storage and sale of food.
The RIDI brand luminaires listed below are suitable for lighting in food processing companies. They are in compliance with the lighting stipulations of the Food Safety Act as set out by Regulation (EC) no. 852/2004 (HACCP) Annex II Chapter I Point 2 a, b, Section II point 1 c.
This object is already on the Wish list